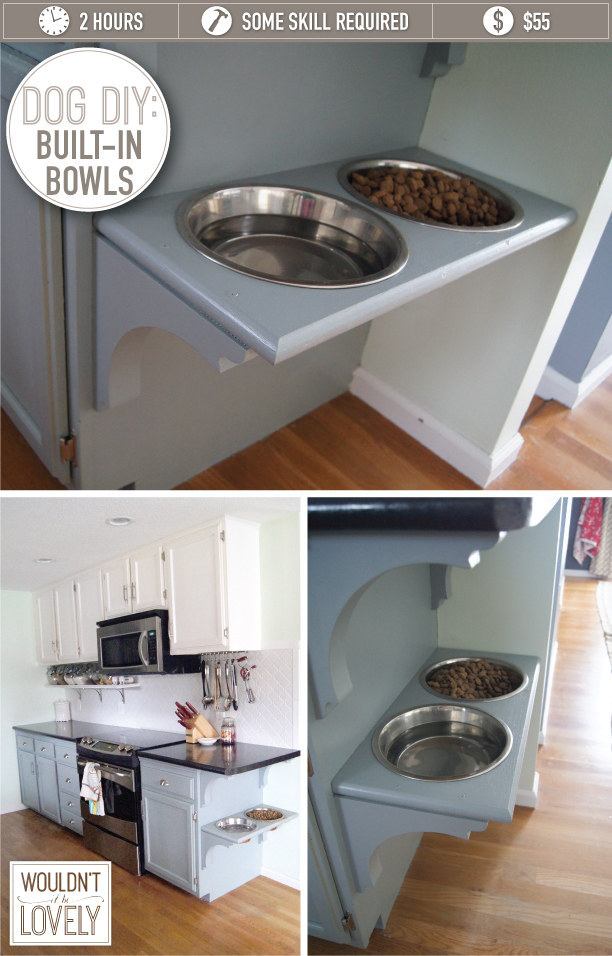 Another Saturday winds down and I am left wondering what the evening holds. Jessie is holed up in her room eating McDonald's, Dave is plugged into his laptop, and I am in between cleaning tasks. I made good progress today on the laundry and straightening the utility room but there is always more to be done.
Earlier, while in über organization mode, I came upon this little gem of an idea on the web--a wall shelf with cutouts to hold dog dishes! Gallifrey has an elevated feeding station, but I have never set anything up for the other dogs because they're short. They can eat on the floor. But they scatter food and water that turns into muck all over the floor, and it's more difficult to clean up because the dishes are sitting in it. With this ingenious shelf, the dishes can be at any custom height, and off the floor at the same time. The
page
I found the idea on had lots of other ideas for hanging pet stations including the one below on an Elfa shelf--perfect for the growing dog (would be excellent for a wolfhound puppy!). Jessie doesn't like the dishes all the way down flush with the top of the shelf as it's harder for her to get them out so I might put in a little platform on the underside of the shelf to hold the rims of the dishes up about a half an inch from the top of the shelf. Alternatively I could use some of the boatload of Elfa I moved from Atlanta.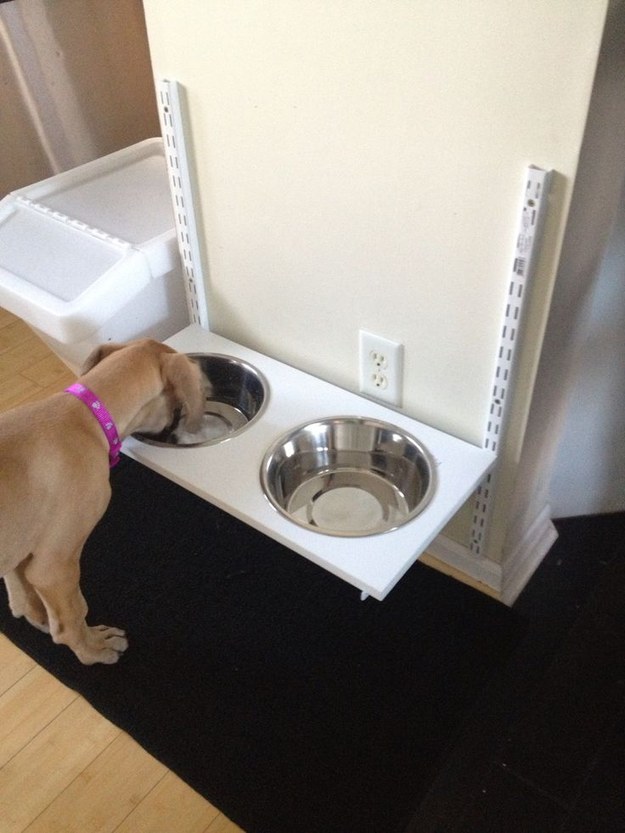 Besides cleaning today, the spouse and I took in a matinee of "XXX: The Return of Xander Cage". I undestand it was not popular and I can see why many people wouldn't like it, but I loved it! I really, really liked the supporting cast of characters they assembled for this one. Yeah, the dialog wasn't so great. Yeah, the direction and the acting in many of the spoken scenes was not good. But, hey, great action scenes! Lots of gratuitous stupid stunts, and a little bit of Samuel L. What more can you ask for?
Then we hit up the Container Store for some wire baskets to hold dirty laundry on the utility cart shelves in the utility/laundry room. Saturday afternoon in the Container Store at the end of the annual Elfa sale... Yeah, nowhere you want to be. Dave fled to the car to wait while I finished having a hanging rod for a closet cut down (they gave me a pager to shop while I waited...) and then I joined one of two excruciatingly long lines at checkout. Seriously, two lines!
Now I end the post with another YouTube classic from _1973_ (and just think, I might get to see them live on June 18!).