Day Two of the Master Spinner Class Level One, and my brain is FULL! Today we didn't spin at all, but we reviewed the terminology we learned yesterday, we finished preparing our skeins for dyeing tomorrow, and we divided up the raw fleece for our breed study... It was like sale day at Filene's Basement. The fleece would hit the table, we would pretend to care about laying it out again, but really we were just waiting for the "go" signal to grab our chunks for the breed study. Most of the fleeces were cleaned off the table faster than a cheetah goes through a gazelle carcass.
For the breed study we are to prepare (wash and card) enough fleece to spin two ten-yard samples--one spun woolen and one spun worsted--for ten different breeds of sheep. Mary, our instructor, brought enough different breed fleeces (supplemented by some of the class participants) that we don't have to go looking for other fleeces to complete this part of the homework. We also had some lovely fleece we could purchase and I ended up with 1/2 of a lovely dark Coopworth fleece, some Rambouillet and either some Icelandic or some Finn.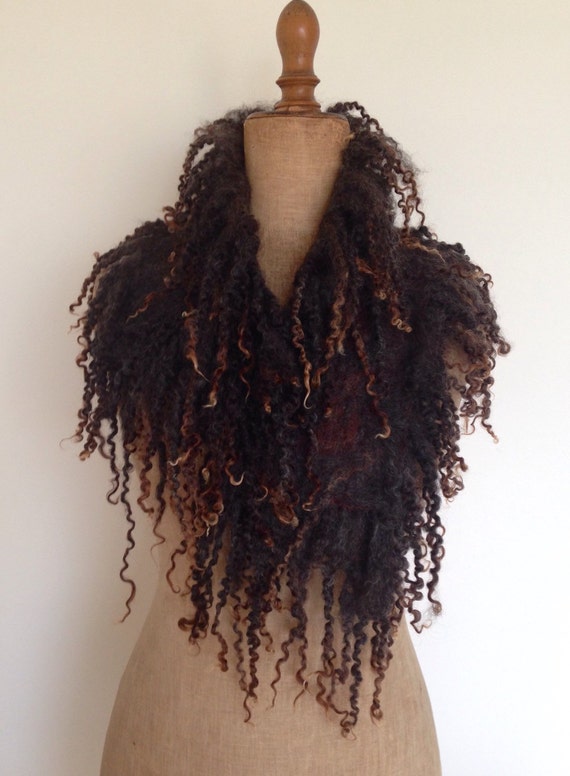 Tonight after class we took a field trip to Susan's Fiber Shop run by Sue McFarland. It was so funny because when we walked in I knew it was Susan's shop, but I didn't know it was Susan McFarland. For the past few years, whenever I open YouTube it loads on the video below. I was very excited to meet her in person and to see her incredible Teeswater sheep. I didn't buy a fleece from her (yet), but it was a close-run thing. I probably got 1/2 a fleece worth as I bought two lbs of raw for my breed study and fun, and another 12 oz of washed locks. This sheep has lustrous curly locks from 6-9" long. I have wanted to do a jacket or a vest with a collar and border of longwool locks for awhile, and Sue's Teeswater is just gorgeous. I still would like a Wensleydale fleece, but I have enough room in my favorites for Teeswater too. The scarf shown at left is from a Wensleydale, the Teeswater sheep are white (shown on the hoof above). They remind me of Suri alpaca---which I haven't worked with at all.