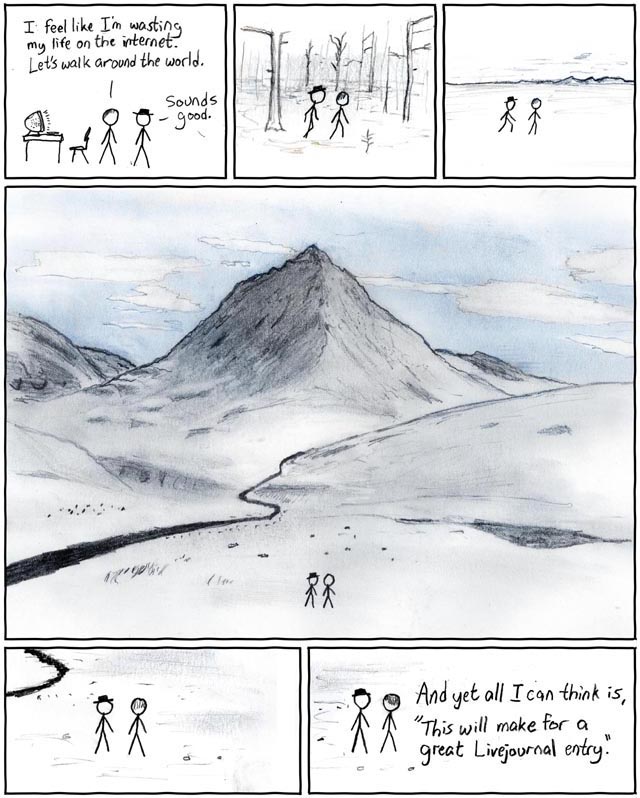 Coffee in the San Francisco skyline mug, the sound of little girls giggling as they get ready for school for my music. A friend whose daughter is in J's class dropped her off this morning because she has an early meeting up north. Dave will take both girls and Becky the Wunder Assistant to school (Becky needs to see the drop-off routine so she can do it next week).
Substitute "Blogger" for "LiveJournal" in the
XKCD
cartoon to the right, and this has become my life (click on the cartoon to make it larger so you can read it). Dave's vacation chant used to be "Live, don't commemorate!" as I snapped picture after picture, absorbing the experience through a lens. Now it's all fodder for the blogs. The day I come up with a way of dictating on the fly, the world as we know it will truly have ended.
And what does blogging have to do with glass art or business? Everything--or, rather, the Internet has everything to do with them (and I'm not talking about an on-line store).
At this winter's Buyer's Market show in Philly I had dinner with a group of fellow artists--many of them long-time show participants--and we commiserated with each other about the Decline of the Show. I have heard lamentation after lamentation that this show used to fill an artist's order schedule for most if not all of the year. Those days were over by the time I started doing it and paying my dues. This year I got enough orders for a few weeks, maybe a month--and I did well. Since I started doing wholesale shows my first automatic reaction to slow sales was to consider adding more shows. But no matter how you slice it, it is very difficult for wholesale shows today to be profitable. I keep trying to convince myself that they are, I keep wanting them to be, but for me, they aren't. The best thing they do is introduce me to new potential buyers, and they have a pretty high cost in terms of time, money and energy for that low return.
It used to be that the only way a gallery owner could see an artist's latest work--and could discover new artists whose work would be a good fit for their galleries--was to go to a show or two. But now with the proliferation of the Internet and the abundance of good, cheap digital image technologies, it's easy for gallery owners to discover new treasures from the comfort of their chairs with a laptop warming their legs. I want to get a piece of that action and have them discover me and my work.
The trend of shopping from the comfort of your own home existed before the economic winds of woe blew in, but it has been seriously exacerbated and accelerated by them. My big spring orders are not coming from the show this year. They're coming from people who currently carry my work who did not attend the shows. They would probably have been better orders had I been able to talk to the buyers ace to face and personally to show them the new work and colorways, but I can work on making them better next time--without having to count on an in-person interaction. I need a better web presence.
The work I do daily here on Blogger and the work I did setting up a Siyeh Studio page on Facebook this week was easy. The people who created the interfaces for them made them quick to create and update and I was up and running in no time. This is not to say that's what I want for a website. I want my website to be unique--not an obvious template--and still easy to update and navigate... and I'm not there yet. Joomla is good, but it's still cumbersome and restrictive.
I also want an easy-to-update on-line catalogue with fully-featured image manipulation. I have a catalog at WholesaleCrafts.com, but the interface for updating it is so bad that I am never up to date. I just don't have the days necessary to make changes on it when I have a new colorway to add or items to edit. Joomla's VirtueMart plug-in doesn't seem to be much better so I keep searching.
Right now I spend a minimum of a full, exhausting week and $5,000 to do a show. I can't help but think that if I took that money and that time I could come up with something more lasting and with a higher return on investment (the all-important ROI). The Internet is a good research tool too. I could spend some of that time identifying good gallery fits for my work. I could write targeted letters to those gallery owners and send them digital portfolios. I could make my work more accessible to them on the web, and I would have the time to follow up on the relationships I have already made that have languished since the other people in them have stopped coming to the shows. I would have more time with my family and I wouldn't be so tired. I just need to be disciplined about using the week that would have be given to show wisely.
The post this morning has been rambling and not at all as tight and coherent as I would have liked. But I wanted to get the beginnings of my process re-work out onto page before it just slips away. The studio is uber busy right now, but soon (really, soon!) I'll have time to come back to the ideas I let go here, and maybe others of you out there will have ideas of your own to add... And we can have a revolution when I get back!